News
Latest Lion Aid News
Tag: West African lions
Wednesday 9th January 2013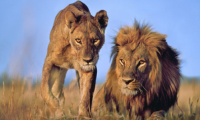 Today the Guardian newspaper reported on our recent report on the possibility of survival of lion populations among lion range States, given their conservation perception rating. The Guardian report focused mainly on the catastrophic declines seen in west African lion populations:
"It is known for its vibrant culture, oil wealth and huge human population, but few people associate Nigeria with lions. Now a report says the almost forgotten species of west African lions found in countries such as Nigeria are on the verge of extinction following a decline in recent years.

The conservation group LionAid says as few as 645 lions remain in the wild in western and central Africa. It says lions are extinct in 25 African nations and virtually extinct in 10, and it estimates that 15,000 wild lions remain on the continent as a whole, compared with about 200,000 30 years ago."
Thank you very much to the Guardian for circulating our important new assessment of remaining lion populations.
Click here to read the full report
Picture credit: http://bit.ly/ZlN702
Please support our work to conserve the remaining fragile lion populations.Thank you.
Add a comment | Posted by Chris Macsween at 17:04