FAQs About LionAid
Frequently Asked Questions about LionAid the charity
Q:

Over 7000 wild lion trophies were exported from Africa ( 2008 - 2017), most into the US. How will you stop this slaughter?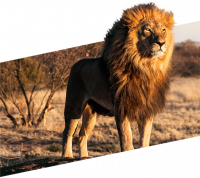 "
What you must realize is that all those trophies were legally exported and imported according to international regulations. CITES and the IUCN refuse to change their stance on elevating the status of lions to an endangered species. It is however a fact that any nation can independently ban the import of any wildlife product. In fact, as of today, Australia, France and the Netherlands have banned all lion trophy hunting imports. The USA has imposed very strict regulations on the imports of lion trophies - such imports must be shown to benefit the conservation of the species (these stricter regulations are now under considerable challenge by the Trump Administration and we as yet do not know whether these will be diluted.
LionAid is continuing to work very hard to convince governments to follow the examples of Australia, France and the Netherlands and even the USA to impose muxh stricter limitations on the import of lion trophies.
LionAid is also working very hard with African lion range states like Tanzania to completely ban lion trophy hunting.
"
Add a comment