News
Wednesday 9th November 2011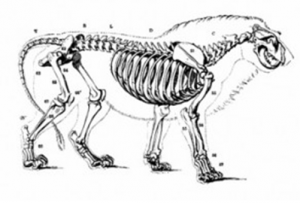 Someone arrested in Johannesburg airport for attempting to export illegal lion bones?
Sent as a "mule" to transport them to an import company in Laos well known for the similar mules sent to transport illegal rhino horns? Is there a link between the illegal rhino horn trade in South Africa and the illegal lion bone trade?
If so, lions are in deep trouble. We have on this site expressed grave concerns about lion bones taking over from tiger bones (in short supply these days) in terms of being used as a substitute for Asian traditional medicine concoctions.
South Africa has long been lauded (by some) for allowing private ownership of many wildlife species. These are placed on game ranches and either trophy hunted and/or hunted for their meat. It is a big industry, and has been hailed as a conservation success – South Africa now has many more previously endangered and vulnerable species like black wildebeest, bontebok, blesbok, and rhinos than before. We have also said on this site that such animals should not be seen as being conserved, as their only purpose on the game ranches is to be commercially exploited.
South Africa allows lions to be bred by private individuals for commercial hunting – the so-called canned hunting. South Africa has also allowed rhinos on private properties to be bred for the hunt. Apparently they did not notice the clamour among Vietnamese hunters to line up for such permits – the rhino horn legally taken to Vietnam and then illegally sold as a concoction was worth many times more than the price for a rhino hunt. It should be pointed out that Vietnamese (and Thai and Laotian) hunters only come to South Africa to shoot rhinos. Alarm bells? Not on your life. Blind eye by SA authorities and many in the international sphere.
Legal rhino exports, in my mind, fuelled a great explosion of poaching in recent years. 333 rhinos poached last year and 341 already this year. The "legal" exports could not keep pace with the demand. South Africa is reviewing whether legal rhino trophy hunting is connected to the increase in poaching and the illegal rhino horn exports. It is clear as day to me, but South Africa dithers and prevaricates, making the occasional announcement that the responsible Minister, Edna Molewa, is "concerned" and just might review "legal hunting" and impose some stricter guidelines. Might she just?
Not a chance Edna. You are as fenced in by the vested interests in rhino trophy hunting as you are by those breeding lions for canned hunting. Read the article above Edna. You might recognize the names of the SA game ranchers already involved with the rhino horn trade and now the lion bone trade?
I believe that history repeats itself. Perhaps because we allow it to. And perhaps we will now see the same pattern that we saw with rhinos – lions increasingly being poached from SA private properties, game reserves, and national parks? And other places in Africa?
Illegal ivory mainly is exported from Tanzania according to intercepted shipments. Whether all those elephants actually were poached in Tanzania is a moot point. It is a convenient and corrupt facilitator that allows container-loads of ivory to be loaded onto ships for further destinations. It is estimated, as in the drug trade, that only 10% of shipments of ivory are intercepted. Worth the risk of sending a container of ivory at huge profit to an Asian port?
The illegal rhino horns and now the increase in lion bone exports virtually all originate from South Africa. Another convenient country for illegal wildlife exports from Africa? Worth the risk of sending one mule for nine that get through? The importers from Laos, Thailand, and Vietnam certainly seem to think so.
Much to think about South Africa. And do make some right decisions please if you want informed wildlife tourists to spend money on a safari to your country…
Tags: lions, canned hunting, South Africa, Tanzania, poaching, rhinos, Laos, Vietnam, lion bones, ivory, rhino horn, commercial hunting,
Categories: canned hunting/Captive breeding, Illegal Wildlife Trade
Posted by Pieter Kat at 15:00
No comments have been posted yet.
---
Add a new comment