News
Wednesday 29th August 2012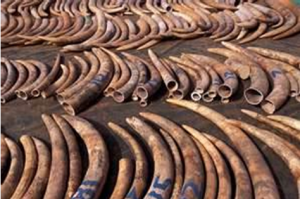 The past few weeks have been "interesting" to say the least in terms of global wildlife conservation efforts. The news can maybe best be described as a weather report here in the UK – rain, occasionally heavy, with a few sunny spells. Let's have a look at some reports:
• Vietnam, despite all evidence to the contrary, denied being the main rhino horn market . The Vietnamese authorities and "conservation experts" like Do Quang Tung, CITES deputy Director for Vietnam, said that a report by the trade monitoring organization TRAFFIC implicating Vietnam as a destination for poached rhino horns in South Africa was not objective. They said the rhino horn was not used in Vietnam, but is only in transit to other Asian countries. Mr Do ignores the fact that 56% of Asian nationals arrested in South Africa for rhino crimes are Vietnamese and that CITES records indicate that 118 rhino bones (2007-2009), 25 rhino bodies (2009), 177 rhino horns (2006-2010), 22 live rhinos (2006-2010) and 241 rhino "trophies" (2003-2010) were shipped from South Africa to Vietnam legally. The CITES Standing Committee in July asked Vietnam to account for those trophy horns by September, as CITES does not allow trophies to be used for commercial purposes. Ooops – that means ground up for the well-documented rhino horn powder used in Vietnam – but not according to Mr Do – who will doubtless ask CITES for more time to "find" the trophy horns? South Africa has now banned licences for "pseudo" trophy hunts for Vietnamese nationals… too little, too late. Meanwhile, Vietnam also runs eleven tiger breeding farms under the guise of conservation but actually destined for the pot. South Africa helpfully exported 16 live tigers to Vietnam (2009-2010) to assist in this captive breeding?

• Zimbabwe comes under our radar again as the country has applied to CITES to sell 50 tonnes of ivory. This ivory they say was confiscated from poachers, resulted from natural deaths and culling programs. Three problems here. First, Zimbabwe claims to be home to 100,000 elephants, which is completely off the mark. That would mean Zimbabwe has about 1/4 of all elephants in eastern and southern Africa which is complete nonsense. Zimbabwe might seasonally share elephants with Zambia, Botswana, perhaps even South Africa. But these animals are migratory, not resident. Second, Zimbabwe was given permission to sell 3.7 tonnes of raw ivory in 2008 by CITES, earning an estimated $500,000. CITES allowed Botswana, South Africa, Namibia and Zimbabwe to sell off stockpiles altogether about 50 tonnes or 5,446 tusks. CITES said the sales were meant to benefit elephant conservation and communities living with elephants. Other sources say 108 tonnes were sold, one wonders where the difference in numbers came from? I doubt any of those four nations spent their ivory cash for conservation. But the interesting point is that in 2008, Zimbabwe had 3.7 tonnes to sell, and now, 4 years later, they have 50 tonnes? Where did all this ivory come from? Perhaps that is why Zimbabwe needed to "invent" 100,000 mythical elephants?

• Zimbabwe also came into the news with an alleged takeover attempt by a Minister (of Higher Education, no less), the Provincial Governor, and a former MP among others of the Save Valley Conservancy. The Conservancy is attempting court intervention, as it is hailed as a conservation success – tourism, trophy hunting, community empowerment, etc. I have my doubts as to the "sustainable" hunting of lions that goes on at the Conservancy for example, but now they have lost their entire 2012 quota as it was suspended in the takeover attempt. We shall have to see where this latest land-grab drama goes.

• India has reported that tiger deaths are at an all-time high, with 48 or so tigers dead since the beginning of the year, compared to about 50 during both 2010 and 2011. I requested further information from Tiger Watch and they confirmed the numbers. Interestingly, all tiger deaths in India are treated as poaching unless it can be proven otherwise. To date, about 20 cases of poaching have been established. Once again, the poaching incidents eventually supply the illegal trade to Asian markets, and the increase this year parallels both the poaching increases on rhinos in Africa and the increase in lion bone trading. We all must realize that poaching of various species (including even pangolins) for the Traditional Medicine market is all interconnected and involves rather few kingpins.

• China has both rain and sun. Yao Ming, an internationally famous Chinese basketball player recently visited Kenya to stand against rhino and elephant poaching (perhaps a good message to other sports "celebrities" to get involved in conservation?). On the other hand at the July meeting of the CITES Standing Committee, China told everyone to get lost in terms of the tiger breeding farms operated for "conservation" – read body parts – as this was internal trade within China and not within the remit of CITES. China was not asked about the fate of the 215 live rhinos shipped from South Africa (2000-2010). There is even a Chinese owned company in South Africa – DeCai – an import/exporter dealing in live animals, animal skins and SA wine also catering to the safari travel and hunting industry – that exported at least 28 live rhinos according to available records.

• Kenya also has rain and sun. The rain fell a few months ago when livestock owners killed 6 lions just outside Nairobi National Park. A lion was chopped up inside Amboseli National Park, and community members in the area killed a number of elephants citing grievances against the Kenya Wildlife Service in terms of non-involvement in the profits of the Park despite promises. The 2008 Wildlife Act that could provide legal relief continues to gather dust on shelves as it has not been enacted. The sun came out with the formation of the Eseriani Wildlife Association, an organization established to serve as a mitigation agency between communities and government agencies. Further good news – John Keen, a respected Maasai Elder and former MP (he is 82) came out in great support of wildlife conservation and offered to donate 300 acres of his land to enlarge the Nairobi National Park.

• South Africa recently ordered AVAAZ posters at the O.R. Tambo International Airport (Johannesburg) to be taken down. AVAAZ is an international pressure group and internet petition organization that has collected well over 700,000 signatures to ask SA President Zuma to intervene in the lion bone trade. LionAid was closely involved as the leading conservation organization on this issue, but did not design the "offensive" posters that were paid advertising. AVAAZ is now considering legal action as they claim censorship.

So overall, some bright spells emerging from the gloom that continues to characterize the international will to commit considered effort into the conservation of our joint wildlife heritage. It is becoming all the more evident that the effort and the will and the pressure will come from individuals rather than entrenched large organizations. A Wildlife Spring is on the way.


Picture credit: elephantivory.org
Posted by Pieter Kat at 16:30
No comments have been posted yet.
---
Add a new comment