News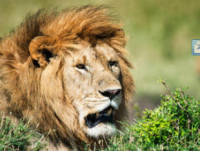 We were delighted to see that the Sunday Express today highlighted the new lion population report, compiled by our own Dr. Pieter Kat.
"The king of beasts is losing his grip on his throne.
Lions are vanishing so fast from their African hunting grounds that they are facing extinction in their wild domain within a generation"
Read the full article here
Picture credit: http://bit.ly/1387Jxo
If you have not already signed up to our mailing list, you can your name here and keep up to date with our ongoing work and, most importantly, support our work to conserve the remaining fragile lion populations.Thank you.
Posted by Chris Macsween at 15:33
No comments have been posted yet.
---
Add a new comment