News
Saturday 5th January 2013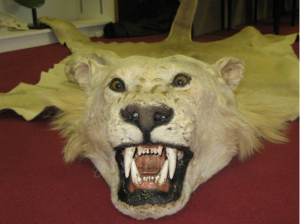 Some of us might remember the speech by Queen Elizabeth to the nation and the Commonwealth when she referred to 1992 as the annus horribilis – the horrible year – referring to the break-up of two family marriages and one divorce within her family and a fire at one of her homes – Windsor Castle.
I believe we can also label 2012 as the annus horribilis for wildlife conservation in Africa. During that year, we were informed that over 650 rhinos were poached for their horns in South Africa, tens of thousands of elephants poached for ivory on the continent, lions killed for the value of their bones and trophies in increasing numbers and the list goes on. We also heard that the illegal wildlife trade is now only just behind drug and illegal arms trafficking in terms of profits.
We are realizing that wildlife is a commodity to be traded illegally by syndicates and legally by "pseudo hunters". We learned that international organizations were scrambling to keep up but ultimately ineffectual to control the killings. How could they be when we also learned the extent to which officials in countries are involved in the illegal trade? And that militias and armies were funding their activities by the sales of ivory and rhino horns? And that some allege that the recent upsurge in rhino and elephant poaching in Kenya is attributable to candidates in the upcoming elections in March are filling their coffers?
More and more illegal ivory is being seized in Hong Kong, Singapore, the Philippines, Kenya, Malaysia. We are only just beginning to realize that for every one seizure, maybe nine reach their destination. Some estimate that four elephants are poached every hour to supply the insatiable demand for ivory. Some estimate that 80,000 elephants have been killed over the past three years. Photographs of the seized shipments include tusks that belonged to juvenile elephants.
So what have we learned? Quite a few sobering lessons. I have revised lion numbers down to about 15,000 on the African continent based on an analysis of the capability of range states to be able to maintain them based on a number of international indices like poverty, corruption, failed state ranking, wildlife department effectiveness, and perhaps most important the will of Governments to conserve their national wildlife heritage.
We have also learned, regrettably, that some major conservation organizations have become so corporate that they reward their executives a salary exceeding that of President Obama. We learned that hopeful contributions by their donors went to office expenses rather than wildlife. We learned that major conservation organizations have not been effective to stem the tide of illegal wildlife trade, and indeed some continue to support the outdated notion that trophy hunting contributes to conservation.
Most importantly, we learned that we have been complacent and perhaps even ignorant of the consequences of wildlife trade. We ignored trends facilitated by South Africa in terms of rhino poaching that has now spread to Namibia, Kenya, Tanzania. We ignored the fact that there used to be 10,000 Northern White Rhinos – all gone. We ignored the fact that there were over 200,000 lions in Africa 50 years ago – all gone except for maybe 15,000 survivors of habitat destruction, human/wildlife conflict and an immense toll from trophy hunting.
We must all accept a new formula. It will be difficult as the current trends of commercial poaching for bush meat, ivory, rhino horns and lion bones has become established to an extent perhaps beyond our comprehension. This was not a sudden development, it has been building for a long time. If we want to make a difference in conservation of African wildlife, we need to engage the African decision makers and the very people who consider wildlife as their heritage.
We need to engage and provide funding to those conservation organisations that have grasped the new realities, adopted new methods to deal with new threats, and above all, are not weighed down by a vast corporate infrastructure that swallows conservation dollars faster than you can say ineffectual.

2012 should be our last annus horribilis based on failed conservation formulas. We need to get smart, get real, and move forward.
Posted by Pieter Kat at 19:02
No comments have been posted yet.
---
Add a new comment