News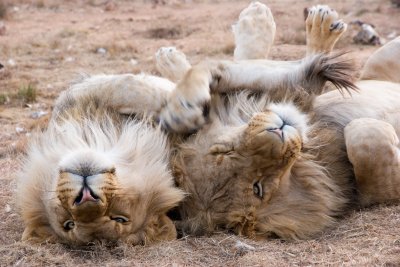 Shortly after the last Adjournment Debate on trophy hunting imports delivered by Zac Goldsmith MP in the UK Parliament, Tracey Crouch MP asked us to put together a series of questions that she could submit in writing through the UK Parliamentary process to the Secretary of State for Environment, Food and Rural Affairs, Michael Gove. We were very happy to oblige.
There were five questions in all and tomorrow we will deal with the questions which did receive an answer, with three of those questions receiving a single unsatisfactory reply. But today we will deal with the most important question which DID NOT receive an answer.
The question was:
"To ask the Secretary of State for Environment, Food and Rural Affairs why the UK Government has faith in empty promises in significant improvements in hunting practices when no such improvements have been forthcoming in the last 24 years."
Why was this question so crucial?
You all may recall that in November 2015, LionAid worked with David Jones MP who achieved an Adjournment Debate asking the UK Government to ban the import of lion trophies. This Debate was received by the then Minister of Environment Rory Stewart, who promised David Jones during the Debate that if significant improvements hadn't occured in hunting practices within two years, the UK Government would initiate a ban on lion trophy imports by 2017. This DID NOT happen despite NO improvements in hunting practices AND despite the SAME warnings (that very necessary hunting practice improvements were required) being expressed by the Tanzania Department of Wildlife in 1995.
It is acknowledged that as of today there still HAVE NOT BEEN any significant improvements in hunting practices, but the latest House of Commonsd Briefing Paper (issued on 14th May 2019) STILL states "the UK Government is not considering a ban."
So we waited for the reply from Michael Gove to this KEY question.
The reply came that the above question was ARGUMENTATIVE and would NOT be answered.
Is it in any way acceptable that such a key question can be cast aside and ignored? And from one of the UK hopefuls who would like to become the UK's next Prime Minister?
We CANNOT simply sit back and accept this lack of engagement from the UK Government, particularly whilst an important iconic and highly endangered species continues its dramatic decline into extinction.
We will continue to apply as much pressure as we can and will continue to engage with the growing number of UK Members of Parliament who are behind us all the way.
Our next meeting with yet another supporting MP is next week in Westminster. We will keep you posted.
Tomorrow we will update you and provide analysis of the single answer received to three further Parliamentary questions put to Michael Gove after the last Adjournment Debate. This one answer is astonishing in its lack of understanding of the issues and continues to laud the non-existent "benefits" of lion trophy hunting.
In the meantime, we ask you to support our work on this campaign calling on the UK Government to ban the imports of lion trophies with immediate effect.
Please DONATE if you can. Ths campaign is taking all of our limited financial resources and we need your support to keep up the pressure on the UK Government to act.
Before you buy that next cup of coffee, think how even that small sum donated to us could help us keep up the fight for lions!
And have you signed our online petition yet asking Michael Gove to ban the import of lion trophies? Nearly 408,000 have already done so and we need your support too if we are to keep exerting more and more pressure. Sign here
Until tomorrow! Thank you one and all.
Posted by Chris Macsween at 14:12
No comments have been posted yet.
---
Add a new comment