News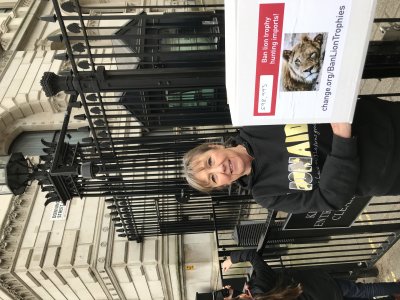 Last Saturday LionAid delivered 598,993 of your signatures to No 10 Downing Street, the home of the UK Prime Minister, asking Boris Johnson to ban the import of lion trophies into the UK. Further petitions calling for a ban on all trophy hunting imports into the UK were added to our awesome total (so far!!) to provide MORE THAN A MILLION signatures combined.
This was an impressive display of public feeling on this issue and we urge you to carry on signing our petition here if you haven't already done so as the fight is certainly not over yet.
The UK Government, as you may already know, called for a Public Consultation on whether or not to ban the import of hunting trophies and the closing date was in fact the 25th January, the day we handed in the million signatures to No 10 Downing Street. BUT the pro hunting groups have now realised the strength of feeling against trophy hunting and suddenly the UK Government decided to EXTEND the deadline to the 25th February to allow further time for people to take part in this Public Consultation. This is DESPITE the fact they have already received over 12,000 submissions, mostly we believe from all of us who wish to see an end to trophy hunting imports into the UK.
SO, the fight goes on…..
The annual crop of Trophy Hunting Conventions are now underway, where hunting operators pitch up to advertise their ghastly trophy hunts and try to entice new people to sign up and pay to go on one of their trophy hunting trips. We believe there is a growing desperation among these operators to attract new clients in what has become an increasingly competitive industry amid falling sales and it seems they are prepared to demonstrate how they can deliver a "guaranteed" kill.
One very distressing hearsay story emerging is that a professional hunting outfit in Zimbabwe is quoted as saying they will first shoot the intended trophy animal (in this case, a leopard) in the legs to CRIPPLE it so that the paying trophy hunting client has an easy kill. Now this may or may not be true and we can't validate this account appearing in the German press today BUT we can say with certainty in Zimbabwe that:
The Professional Hunter can use pre-baiting (where baits are put out before the client arrives) to determine the presence of "trophy" animals in any particular area with the additional use of trail cameras.
Further baiting in areas identified by the pre-baiting exercise
Hunting with dogs, which in the case of leopards, will be used to force the animal up a tree to make it even easier for the client to shoot them.
Shooting animals from vehicles is common but illegal.
The use of pre-baiting, the use of hounds and shooting animals from vehicles is highly controversial and its use in Zimbabwe seems to be in contravention of the Zimbabwe Wildlife Act.
All the methods to make it easy to hunt leopards as mentioned above also apply to lions in Zimbabwe.
SO, it's ever more important to sign this petition so we can show the UK Government the FULL FORCE of our opposition to the import of lion trophies into the UK. Let's get to the magic MILLION signatures calling for a BAN on lion trophy imports before the 25th February.
Please sign today if you haven't already done so and PLEASE, will you help us in this fight for lions by sparing us a DONATION today to help us as we fight on to save this iconic species.
Thank you.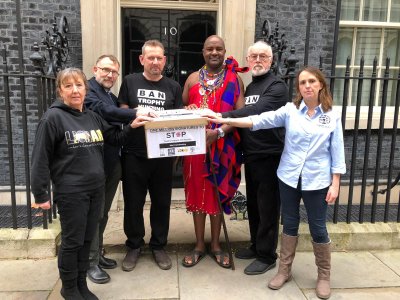 Posted by Chris Macsween at 14:49
No comments have been posted yet.
---
Add a new comment