News
Latest Lion Aid News
Tag: Ban Trophy Hunting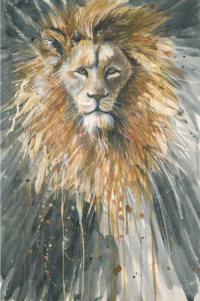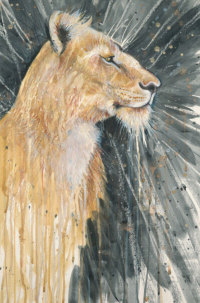 We are delighted to announce that the acclaimed artist, Emma de Polnay, is auctioning two of her wonderful lion artworks to benefit LionAid's conservation work. Emma de Polnay was inspired to create the 'Wild Devotion' duo, after reading these heart-breaking statistics that there are fewer than 15,000 wild lions remaining on the entire and very large African continent- and wanting to use her artistic talent to do something to help.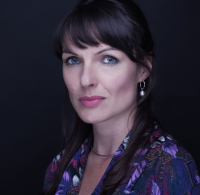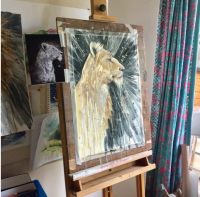 In Emma's own words:
"Lion Trophy Hunting is barbaric and must end. I am thrilled to be using my artwork to support LionAid, with their tireless fight to ban this gruesome trade. I have always adored Lions. When I was 4, my parents discovered me screaming inconsolably watching the early cartoon of 'The Lion,The Witch & The Wardrobe' I was watching the White Witch tie the Lion, Aslan to a sacrificial alter and viciously cut his mane off. I believe my screams were a primal reaction to watching this barbaric act.
I created the 'Wild Devotion' Lion duo during the Coronavirus Lockdown. I had been researching the rapidly dwindling wild Lion population, due to canned/captive hunting and the trophy hunting trade and just desperately wanted to do something. I found some beautiful reference of wild Lions and drew them - my way, inky drips and splashes galore.
I wasn't initially sure how to convert 'Wild Devotion' into direct fundraising, but with some pivotal conversations with highly experienced animal welfare campaigners, a plan started forming.
David Carter & Leon Suddaby at Sims Gallery Online, have been amazing. Both highly experienced art dealers, they fully embraced the cause and the opportunity, and within a few hours, David had created a dedicated auction page on their gallery website.
Bring Lion energy into your home and help LionAid ban this barbaric trade and all attached to it. Bid for 'Wild Devotion' today."
As Emma has mentioned above, an inspiring art gallery then heard about Emma's artwork and stepped up to support this fantastic auction.
In their own words:
"Sims Gallery Online proprietors Leon Suddaby and David Carter are pleased to support LionAid and mention that the lion has always been an important symbol in Western art, Landseer's big cats are among the most famous depictions of lions, and other renowned artists who have painted the majestic animal include Eugène Delacroix, Albrecht Dürer and Briton Rivière."
So this is now your opportunity to own either this amazing "Wild Devotion" duo or simply one of them. In doing so, you will be supporting LionAid in its work to save this endangered iconic predator from beckoning extinction and to finally bring about a complete ban on lion trophy hunting.
You can still sign our online petition to ban lion trophy hunting imports in to the UK!
SIGN HERE! Let's get to a million signatures!
The Auction closes at 12pm on 10th August 2020, World Lion Day.
Don't delay! You can join the bidding here: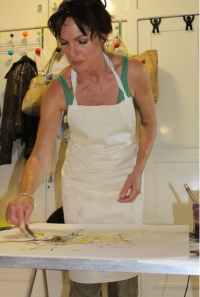 Add a comment | Posted by Chris Macsween at 13:58