News
Wednesday 24th August 2022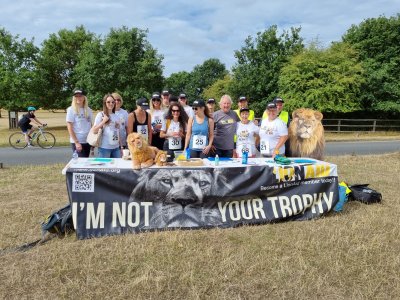 Last Sunday, the 21st August, on a beautifully sunny day, volunteers from the LionAid London Pride, together with Bridget, our Head of Operational Support, once again organised a walk through Richmond Park in London to raise money for LionAid's project in Kenya to mitigate the human/lion conflict in Merrueshi.
We walked twelve kilometres through the Park, accompanied by some beautiful,
well behaved dogs. As instructed, the dogs remained on leads which was just as well since we were treated to many sightings of the wild deer who call Richmond Park their home. The deer obligingly posed as we passed them so we could take some lovely photographs of them!
The medal that participants received at the end of the walk was a lovely surprise to everyone and will be a lasting reminder of the work everyone did to help raise the money for our project in Merrueshi. It is certainly not too late to donate to this event.
.
You can add your donation here to help us save lions and help the impoverished rural communities that live alongside the predators.
A big thank you to everyone who gave up their time to once again make this event the success it was! And a big thank you to our Trustee, Derek Cattani who opened the event and took many of the lovely photographs during the day.
Posted by Chris Macsween at 14:58
No comments have been posted yet.
---
Add a new comment