News
Wednesday 10th August 2022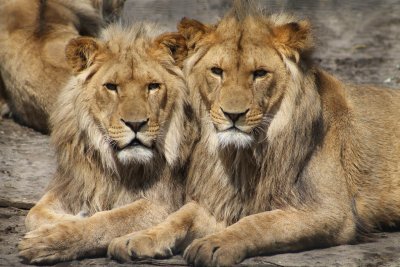 LionAid LIONHEARTS team climbed Mount Kilimanjaro in Tanzania during the last two weeks in July to raise urgent funding for our human/lion conflict mitigation project in Kenya. I will talk about this amazing climb in a later blog post!
After we came down the mountain, we all clambered into a 22-seater coach and drove across the border into Kenya – bound for the rural community living in the Merrueshi ecosystem, a community that lives in close proximity to Amboseli National Park and where the human/lion conflict is a major threat to both lions and these rural pastoralists.
So, today, WORLD LION DAY, seems an appropriate day to tell you more about the project and how the monies we are raising CAN AND WILL make a big difference to both lions and the community in Merrueshi.
THE MERRUESHI PROJECT
The community is threatened by lions coming out of Amboseli National Park. There is also a pride of 22 lions living entirely on Maasai community land, and the community confirmed to us that resident lions occur in wooded areas to the south of where our LionAid team visited.
There are two "rainy seasons" in Kenya - the "long rains" from March to May and the "short rains" from October to December. The "long rains" have essentially failed this year, following a pattern of decreased rainfall due to climate change. Resident lions are augmented by Amboseli park lions following prey out of the park onto Maasai lands. Other predators, like hyenas and leopards, also exit the park onto Maasai lands.
The community retaliates against such attacks by killing predators (poison being the means most used) but as this is illegal and prosecutable, few community members were willing to admit such practices. Inside information gained nevertheless indicated the practice is prevalent, especially in areas where predator attacks on livestock are frequent and enduring.
If livestock are secured at night in light-protected bomas, such attacks drop off significantly. For example, a study conducted in areas bordering Nairobi National Park showed that 184 (96%) attacks took place prior to light installation and 7 (4%) after light installation.
We will use tried and tested and highly effective installation of lights powered by solar panels to deter predators. We will also couple installation of those lights with an "insurance herd" initiative proposed by the Maasai themselves to be able to instantly replace livestock in the rare cases where protected bomas would still suffer occasional predation.
Solar panels and batteries would also provide lighting inside the houses – the LionAid team visiting such houses could immediately see how dark it was inside.
FURTHER PROJECT PLANS AS FUNDS ALLOW
Other projects involving the Merrueshi community that could be directly linked to predator conservation also emerged during the visit:
Improvement of facilities and provision of water to a Merrueshi primary school.
Water provision to an existing large capacity concrete water tank already provided with a high capacity diesel-powered pump will be restored. This fresh water supply from springs within Amboseli National Park, in the past a responsibility of the Kenya Wildlife Service, has been interrupted by broken water pipes within the park. This large capacity holding tank is a short distance away from the school, and the school could directly be provided with water from that filled tank.
OVERALL
We were provided with clear and present problems of a Maasai community living with wildlife. Their lands are extremely important to the survival and maintenance of wildlife populations within Amboseli National Park – whose income is estimated at $3.3 million annually. We arrived during a drought – and the next rains (if they materialize) will not come until late October lasting perhaps until mid-December. We saw the impact of drought on the community – livestock had been moved out to other areas where perhaps some fodder remains, children going hungry, no water anywhere.
We saw the poverty of a community hugely important to conservation of wildlife in the Amboseli eco-system.
We saw the difference in perception of lions by the Merrueshi school children (lions are dangerous and kill livestock) and UK school children (lions must be protected).
We heard the resolve of the community to yet protect lions – if they are given the means to do so.
We saw the reality – and the means we have to make the life of the community AND the lions better and more secure.
And that should be our goal.
PLEASE support this project if you can by DONATING.
The manyatta we visited consists of 26 community houses, a pre-school and bomas for 100 head of livestock.
To fully protect this ONE manyatta, we need 26 lights for the houses (there are NO lights in the houses at the moment and it is VERY dark inside) plus 10 lights for the perimeter fence to deter lions and other predators.
The total cost of this is £7,000 or £269 per household.
There are 58 further Manyattas across the Merrueshi ecosystem but we can immediately bring light and security to at least one manyatta from the monies we have already raised.
To restore the broken water pipes coming from Amboseli to the storage tank will cost a further £8,000 – but will allow children to access water at the school and will also provide a much needed source of water for community members nearby.
With your support we will have the means we have to make the life of the community AND the lions better and more secure.
Please donate here. Thank you.

Entrance to the Manyatta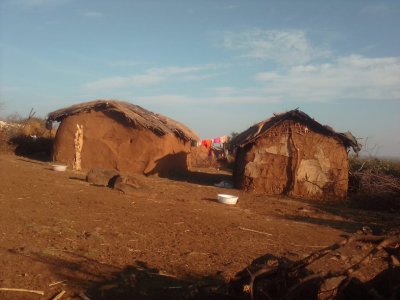 Two of the Community houses
Meeting with the Elders and community representatives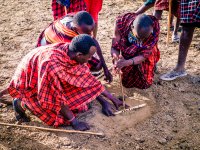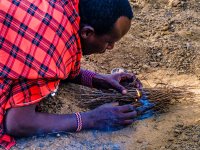 The Maasai create fire for cooking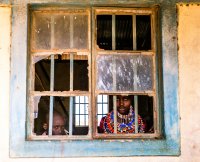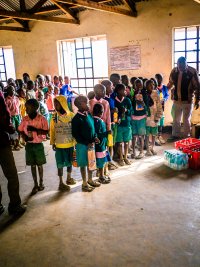 Visiting the community school and bringing the children some soda and bread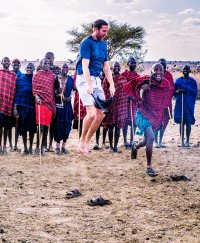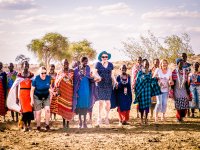 Jumping for joy with the Maasai.
YOU CAN DONATE HERE TO THIS IMPORTANT PROJECT . THANK YOU
Posted by Chris Macsween at 20:26
No comments have been posted yet.
---
Add a new comment