News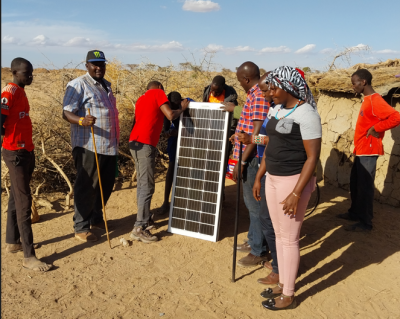 We at LionAid have long advocated for a new wildlife conservation formula involving local communities
The beginning
Our programme, jointly conceived with Maasai Elders across Kenya, has paid dividends to assist a rural Kenya community to protect their livestock while living with lions. The Merrueshi community recently told us:
"Happy New Year 2023, the new year for Africa lions.
We as the leadership of Merrueshi community and LionAid branch here, it is with great happiness that we count the blessings LionAid extended to our community.
A community that has always been disadvantage by many NGOs that Come with bigger promises but ending up with nothing will always received a negative response from any community , it is true, Merrueshi community has always received many promises but nothing has reached the ground not until LionAid arrives and life changes for the better . People and wildlife tested the real meaning of companion.
When you give a community to decide for themselves and use the local people as a link then you will achieved 100% reception and implementation."
The background
In Africa, no national park wildlife population within their borders can be considered as a sufficient conservation island. Unfenced national parks all over Africa need lands outside their borders to maintain healthy wildlife populations.
And those "available" external lands are owned, largely, by pastoralist communities – those that rely on livestock for their income and survival.
These communities increasingly are expected to bear the burden of wildlife on their lands. Wildlife herbivores compete with community livestock for grazing, and predators diminish their herds. In Kenya, government compensation programmes have not delivered. Local and international NGO programmes have maybe not consulted communities to enable them to deliver effective solutions to "live with wildlife".
This is why LionAid reached out to the Merrueshi Maasai community living beside Amboseli National Park. Their community lands are integral to the survival of wildlife in Amboseli, a major tourism earner for the Kenya Wildlife Service. In addition, the Merrueshi community lands maintain a crucial wildlife corridor between Amboseli and the Chulu Hills National Park and even the Tsavo East and West National Parks.
The better solution
LionAid consulted with Maasai Elders to develop a now widely accepted plan to protect livestock and lions. Solar lights are provided around villages (manyattas) to deter predators and also, for the first time for the community, provides lights inside their houses. In return, villagers provide an "insurance herd" of livestock that is used at the discretion of local Elders to compensate for livestock losses across the community.
To date, LionAid has provided three villages with predator deterrent lights and household lights, and a fourth is imminent. Our Maasai community partners have noted a complete absence of predation in villages provided with lights, and have provided assistance via the insurance herd to those not yet provided with lights.
The funding appeal
Each manyatta (village) costs about £4,000 (depending on size) to be equipped with solar panels and installed lights, and each manyatta is expected to provide livestock for the insurance herd equivalent to that cost.
The LionAid programme is truly self-sustaining. One-off payments for predator deterrent lights to the villages never have to be repeated. The insurance herd will grow by reproduction and can be used at the discretion of the panel of Elders (for the first time including women) to pay for solar light maintenance, livestock veterinary care, school fees, even medical care for impoverished community members. The insurance herd is there for the entire community and regulated for use by the community.
There are 58 manyattas in the Merrueshi community. Our hope is to have most of them provided with solar lights in coming years, identified by a schedule of priority via the community Elders and members.
Already, news of the success of this programme is spreading across other Maasai communities in Kenya and even Tanzania.
We ask you to please donate to this innovative and effective programme that both protects lions and assists communities. Effective, truly sustainable, administered by the community themselves – a true breakthrough model for grassroots conservation.
You can add your donation here
And you can donate and find out more about the project here
Posted by Chris Macsween at 16:45
No comments have been posted yet.
---
Add a new comment