News
Latest Lion Aid News
Tag: extinction
Monday 21st December 2020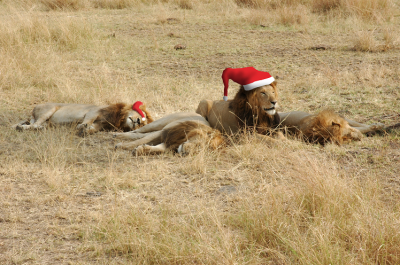 Our LionAid family would like to wish all of you a very happy Christmas and a wonderful New Year!

Certainly, 2020 came with many challenges and little happiness, and we hope you are all weathering this storm as best you can. Many sincere condolences for you who had to suffer with COVID either by becoming infected and ill and especially to those who lost loved ones. With the amazingly fast development of vaccines, let's all hope 2021 will allow us to return to some semblance of normality.

We should not forget, however, that COVID 19 came about because we have ever-closer interactions with wildlife and are destroying wild habitats at an ever-increasing rate. Even with a vaccine available, we hope that we will not forget the destruction that a simple virus can have on our lives, societies and economies. Respecting wildlife more will only assist in preventing the spread of these zoonotic diseases…

Of course, COVID impacted heavily on a great diversity of charities not covered by government assistance, and strangely, given the above, one of the groups most negatively affected were the charities involved in wildlife. LionAid could not fundraise, lobby effectively, or travel to lion range states to establish new programs.

However, we were not sitting still, all the more important because our newest report on the status of Africa's lions has shown that there are no most likely not more than 10,000 lions in the wild. This is a significant decrease from even eight years ago. Western African lion populations were estimated to have declined by 43% since 2012, and eastern/southern African lions saw a decline of 37% since our last status report. There are fears that COVID will have added to the problems of Africa's wild lions as more and more already impoverished communities were put out of work and inevitably turned to poaching to make ends meet and food on the table.

COVID did have a positive effect on lion populations in that trophy hunting all but ceased. However, this is something that is surely to come back – the hunters on their chat sites are chomping at the bit. Sadly, the UK government is still dragging heels on publishing the results and recommendations of the Public Consultation on the future of Britain's trophy hunting imports and exports (COVID blamed of course).
We decided not to wait for the results of this seemingly shelved Public Consultation (results are now seven months overdue) and to push for a separate ban on the UK import of lion trophies. This has always been our original goal, and lions do not have the luxury of time to wait on slow government progress on these issues. We have had positive discussions with a number of UK Members of Parliament on this issue, including the Shadow Secretary of State for Environment, Food and Rural Affairs and several backbench MPs who are preparing Written Questions on this issue and/or further Adjournment Debates. One of the MPs will bring the issue directly to the Prime Minister, as she said she had positive discussions with him on this issue before.
And today, we have had another zoom call with another member of the UK Parliament. He is putting an urgent question to the UK Government to warn how URGENT it is to bring in a lion trophy import ban right now.

This is all very good news, and we hope to get the issue of lion trophy hunting imports solidly back on the mainstream UK Government agenda early in 2021. So watch this space!!!

We are also making progress in discussions with the new Botswana director of the Department of Wildlife and National Parks to coordinate a lion population census in that country. Such a census is well overdue (the last one was in 2000/2001) especially as Botswana is globally recognized as holding on of the few remaining "stronghold" lion populations. Despite COVID travel restrictions, we are poised to begin to identify funding, collaborators, equipment, locations for the survey, etc.
We hope you will all have as good a Christmas and New Year as you are allowed (we are in total lockdown where we live), and we're sure all of us look forward to the end of 2020!
As the pressure on wild lion populations continues to grow, will you DONATE if you can to help us continue this crucial work to bring the plight of lions to the world's attention, to continue the work to save this magnificent, iconic species and very importantly to keep up the pressure on the UK Government to honour its pledge to ban lion trophy hunting imports. Thank you.
PLEASE CLICK HERE TO DONATE - The need has never been greater. THANK YOU
Add a comment | Posted by Chris Macsween at 14:36