Image Galleries for LionAid Campaigns
These galleries show images from LionAid Campaigns.
John Rendall signed copy of A Lion Called Christian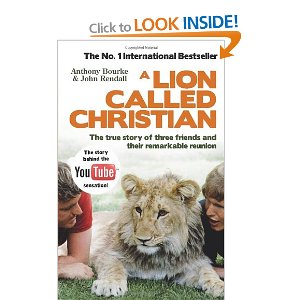 No 1 international best seller. The true story of three friends and their remarkable reunion - Anthony Bourke, John Randall and their pet lion Christian - in the wilds of Africa.
Upcoming twitter auction in aid of LIONAID
Jo and Alan Burn are raising funds to help finance our ongoing campaign to bring about a ban on the importation of lion trophies into the EU. The auction will take place on twitter, ebay and facebook. The auction lots are listed here. Please visit http://www.facebook.com/LionAidFundraising?sk=info for more information.